The artist is Roerich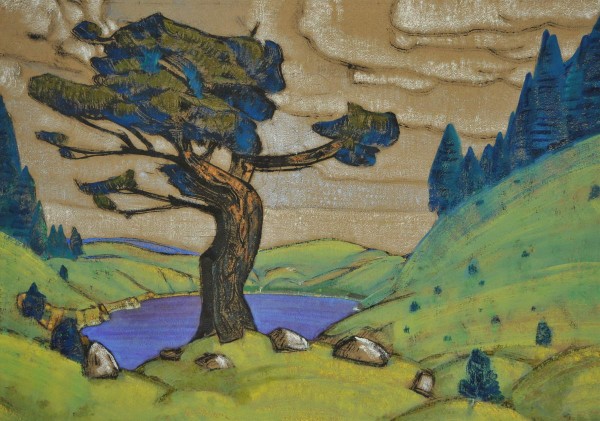 A special place among Roerich's theatrical works is the ballet to the music of Stravinsky "Spring Spring", whose idea dates back to the beginning of 1910.
In the "Chronicle of My Life", Stravinsky says: "Once, … in my imagination completely unexpectedly, for I thought about then completely different, a picture of a sacred pagan ritual arose: the wise elders are sitting in a circle and observing the dying dance of the girl, which they sacrificed to God to God spring to gain his favor. This has become the theme of "Spring Spring". I must say that this vision made a strong impression on me, and I immediately told about him to my friend, artist Nikolai Roerich, whose paintings were resurrected by Slavic paganism. This was delighted, and we began to work together ". Roerich took part not only as a decorator, but also as a co -author of the libretto.
As a result, the ballet, whose premiere took place first in Paris, and then in London, was a stylization of a folk rite, interpreted as a symphonic element.
In the center of the scenery "Kiss of the Earth" to the first action, Roerich depicted a huge oak on the lake shore, millennial, ridiculous, carrying the spirit of power, living life and eternity. The tree straightened its trunk, stretching into the core of heaven. And around the soft, rounded lines of gentle hills, blue lake and thin birch trunks, picturesquely located on green slopes, like flocks of a round dance of girls. The earth, covered with a thick floral carpet, was illuminated by some special, characteristic of Roerich things with a glow. Everything creates a feeling of spring awakening of nature. The impression of beauty and harmony is emphasized by the sophistication and purity of color combinations.
E.IN.Stankevich. Materials for audio guides to the exhibition "Nikolai Roerich. In search of Shambhala". 2020
Ballet "Sacred spring". Composer and.Stravinsky. Author of costumes and scenery n.Roerich. Choreography of Vaclav Nizhinsky. Joffrey Ballet
Sketches of scenery and costumes for ballet "Sacred spring" (Online "Catalog of paintings n. and s. Roerichs)