The artist is Roerich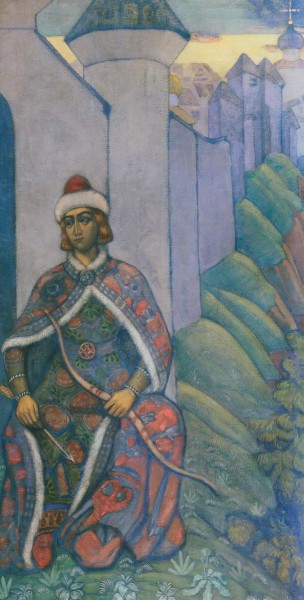 Suite "Bogatyr frieze"
In 1909-1910, Roerich performed a series of panels "Bogatyr frieze" for the mansion of a prominent industrialist and honorary citizen of St. Petersburg F. G. Bazhanova. The house was built according to the project of the architect P. R. Aleshina in 1907-1908 in the style of modern. Each of his interior was distinguished by a unique design, but the theme of the heroic ancient Rus' was dominant. The living room was decorated "Volga and Mikula", executed on the sketch m. A. Vrubel, and the panel of Roerich was located in the dining room. The series consisted of eight plot ("Sadko", "Knight", "Accordion", "Ilya Muromets", "Mikula Selyaninovich", "City", "Volga Svyatoslavovich", "Nightingale-robber") and eleven decorative compositions. Creating monumental "Bogatyrsky frieze" became in the artist's work the culmination of his appeal to the topic of epics.