The artist is Surikov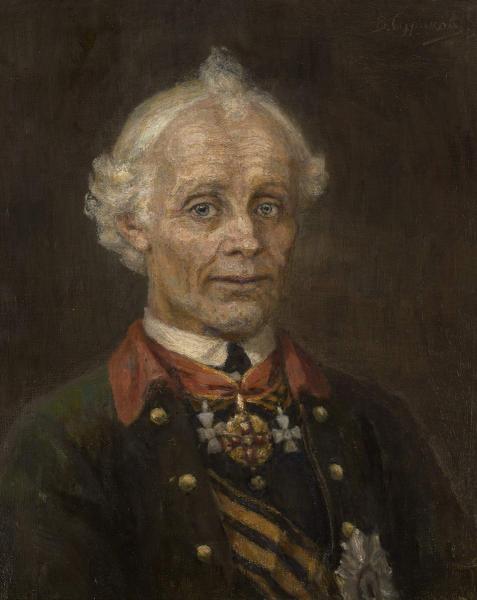 Generalissimus Alexander Vasilievich Suvorov (1729–1800)-was born in Moscow in the family of the ensign of the Life Guards Preobrazhensky regiment Vasily Ivanovich Suvorov, who later rose to the rank of General-Anthez and Senator. He began serving a soldier in the Life Guards Semenovsky Regiment. In 1754 he was released into the army as a lieutenant. From 1770 to 1794, the rank of major General to Field Marshal passed. Participated in the Seven Years War (1756–1761), in the war with the Polish Confederates (1769–1772). In the First Russo-Turkish War (1768–1774), he won victories under Turtukai (1773) and Kozludzhi (1774). In the Second Russo-Turkish War (1787–1792), he became famous for the victories at the Fokshany and Rymnik (1789), the storm of the Izmail fortress (1790). Count Rymnik (1789). In 1794, for the capture of Warsaw, he received the highest general of the rank of Field Marshal. In 1799, at the head of the Union Russian-Austrian army, he freed Italy from the French (Victory under the Add, Trebbia, Novi), made the famous transition through the Swiss Alps. Then he was erected into princely dignity (Italian prince) and the title of Generalissimo.
The end of the 18th century in Russian history was marked by the appearance of two important figures, the Maltese knights – the commander a. IN. Suvorov and Emperor Paul I. It is known that in 1799 Paul I, as a sign of respect for the merits of the commander, ordered to erect a lifetime monument to Suvorov. Despite the inexplicable disgrace, which Suvorov was subjected to the construction of the monument were not stopped, and on May 5, 1801, after the death of the emperor the monument was erected on the Marse Field (during the reign of Emperor Alexander I, the monument was transferred to the square between the marble palace and the house of Count Saltykov (now Suvorovskaya Square).
Italo -Swiss campaign – the pinnacle of the commander -in -law of Suvorov. In 1799, all of Europe applauded him, but in Russia he was not waiting for the triumph. On the way from Prague, Suvorov learned that there would be no solemn meeting of the winner and he would even be prohibited from entering the capital during the day. In the road cart, and not in the ceremonial carriage under the cover of twilight, he arrived in St. Petersburg, he was forbidden to visit the Winter Palace, his name disappeared from the pages of newspapers, he was deprived of his favorite adjutants. May 6, 1800 A. IN. Suvorov died. He was buried not as Generalissimus, but by the state of Field Marshal. Modern biographers are still looking for the reasons for the disagreements between two great people.