The artist is Vasnetsov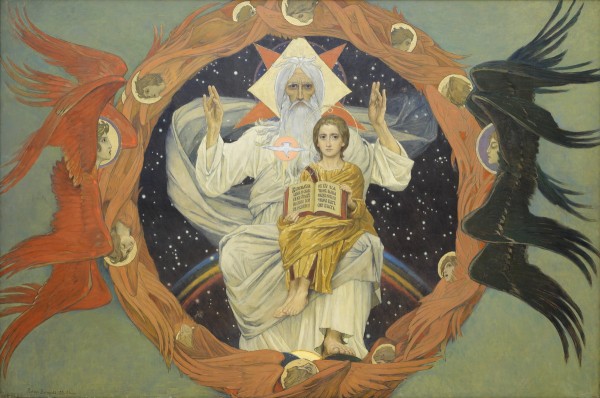 The Orthodox Council in the name of one of the patrons of the Romanovs house, the noble Prince Alexander Nevsky, was laid down in the center of Warsaw according to the project of architect Leonty Benois in 1894 and solemnly covered in 1912. Outstanding Russian artists, including Viktor Vasnetsov and Andrei Ryabushkin, took part in the design of the cathedral and the variety of decorations. The cathedral was demolished in 1924-1926 as a symbol of Russian rule in Poland, and the surviving fragments of the decoration fell into the Orthodox churches of Poland and Belarusia. The canvas "Fatherland" with the image of the Holy Trinity, performed by Viktor Vasnetsov as the original for the mosaic, later destroyed, gives an idea of ​​the monumental church style of the era of the last two Romanovs, in which traditional academic forms were combined with elements of modern.
Pavel Klimov. Exhibition catalog in Malaga "The Romanov dynasty". 2017. WITH. 382.