The artist is Kuindzhi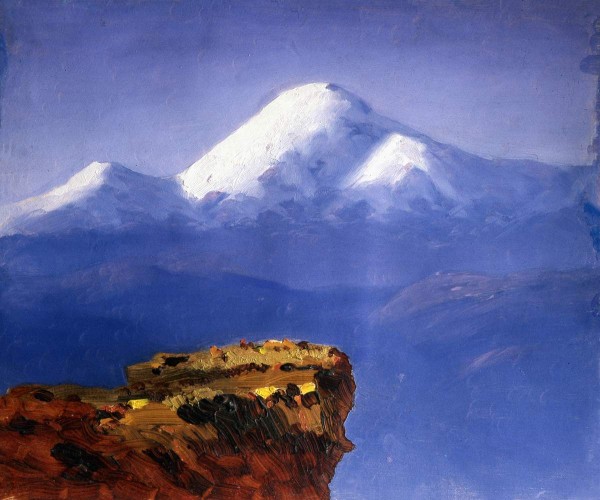 In the Russian Museum – twelve mountain landscapes of the Caucasus, sawed by Kuindzhi. Most of them, interpreted generally and concisely, were created in the early 1900s.
The plot undoubtedly belongs to the late time "Elbrus during the day "with a huge decorative rock, an acute angle protruding in the foreground, and melting the top of the mountain melting in the air haze. Almost without changing in most Caucasian works the composition with the edge of a cliff close to the viewer, which breaks into the valley and closing the space with Elbrus, Kuindzhi varies the light-flower solution of its excellent mountain, then illuminated by sunlight, then drowning in a thinly developed bluish environment. Combining the investigation of a light illusion with the well-known conventionality of the compositional and decorative construction, the artist strives for the synthesis of realistic and romantic principles. High Highlands captivate the masters by proximity to the sky, give a feeling of the unity of the universe, meet his concepts of an exalue-romantic landscape image.
Unlike many painters who turned to mountain landscapes, Kuindzhi avoids a human life, only in one work very approximately outlining the herd on the plateau. He does not connect the eternal being of nature with the transient life of people. The shining peaks of Elbrus appear on his landscapes as not subject to man, as part of the universe that excited the imagination of the artist.
Irina Shuvalova. Kuindzhi in the Russian Museum // Arkhip Kuindzhi. SPb, 2010. WITH.18-19.