The artist is Roerich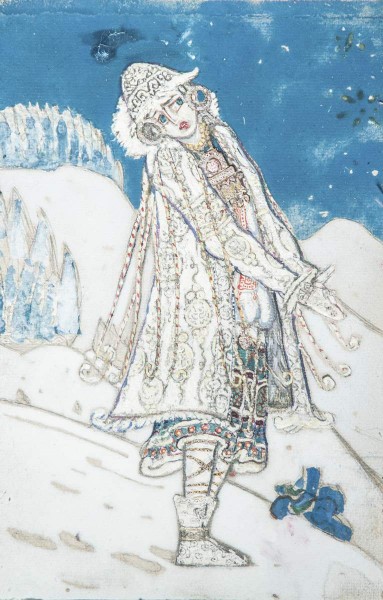 Sketches of scenery and costumes for staging the play A. N. Ostrovsky "Snegurochka" Petersburg Drama Theater "Reineke", 1912.
Nikolai Roerich. In search of Shambhala. SPb, 2020. WITH. 62.
1912 was the most fruitful in the artist as a theater decorator. He worked on the design of the "Spring of the Holy" Stravinsky, "Pens Gyun" by Ibsen, "Tristan and Isolde" of Wagner, as well as the "Snow Maiden" of Ostrovsky, whose premiere was to be the first production on the stage of the new Russian Drama Theater Reineke in St. Petersburg. This was the second creative meeting of Roerich with the "Snow Maiden". Back in 1908, he performed the scenery for the opera of the Rimsky-Korsakov opera of the same name, delivered in Paris on the stage of the opera comedian. The version of the 1912 sketches in many respects inherited these images and transferred the audience to the fairy -tale world of pagan Rus'. The artist presented the mythical time when people worshiped Yarila Solnets, and the hills and stones seemed animated creatures.
In the sketch of the costumes of the Snow Maiden and Santa Claus, Roerich achieves the maximum decorative expressiveness. The clothes of fairy -tale heroes are amazed by the beauty and sophistication of color. Overflows of blue, emerald, gently pink tones combined with a white dominant transmit the atmosphere of a winter tale. In the lace screening of ornaments, like frosty bizarre patterns that cover clothes, the same as in music and dancing the pagan spontaneity of ancient art.
E.IN.Stankevich. Materials for audio guides to the exhibition "Nikolai Roerich. In search of Shambhala". 2020