The artist is Burliuk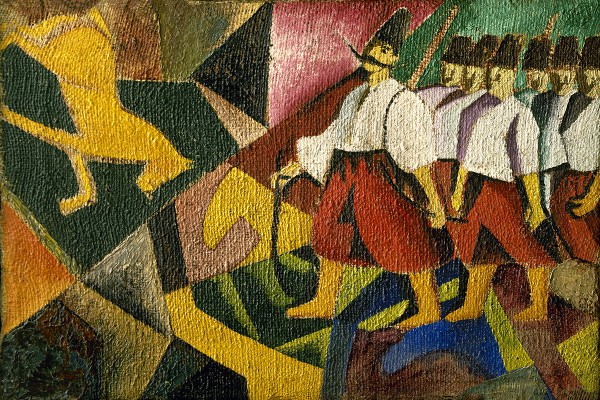 The work "Little Russians" was created in 1912. This word itself – Little Russians – denotes the inhabitants of Ukraine, which was then part of the Russian Empire. The picture feels a cubistic effect – on many broken planes, silhouettes of horses are visible. On top of this cubist layer, the procession of Little Russians in national costumes is shown. The figures are deliberately stylized for the visualization of folk crafts.
The fact is that one of the most important topics for the Russian avant -garde is the attitude to the so -called "folk art". Academy, criticism and bourgeois taste of the 19th century indicatively called such an art primitive. The avant -garde players, including Burliuk, on the contrary, found examples of experimental handling with the form: there is no strict perspective here, the composition is built freely, neglecting all the laws of space. The colors are very bright and clean. The plot gives way to ornamental and decorativeness. The characters are united not by a common narrative, but by free associative connection.