Artist – Petrov -Vodkin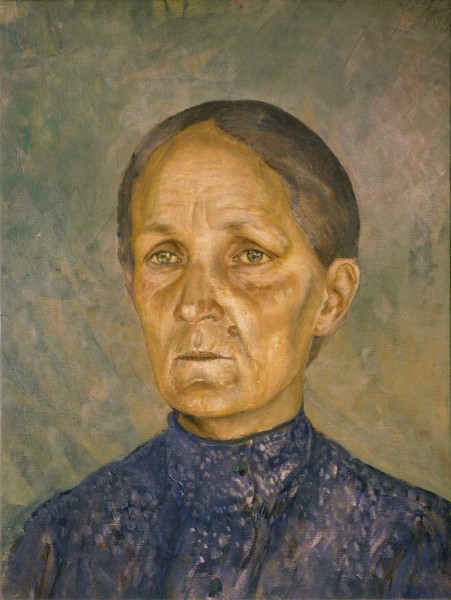 Petrova-Vodkina Anna Panteleevna (Panteleimonovna) (1857?-1938) – artist's mother.
The image of loved ones, especially the wife and mother in the work of Kuzma Sergeyevich occupy a special place. It can be assumed that they have become one of the foundations of the cycle of works devoted to motherhood. The presented work, the portrait of Anna Panteleevna, written in 1909, inspiredly conveys from childhood a favorite image-it was to his mother, not to his father, Petrov-Vodkin felt a special affection. Considering a thin, wrinkled, weathered, darkened face, colorful blouse of blue color, you involuntarily imagine the blue banks of the Volga, wooded hills, apple orchards and expanses of the bread fields, which are so famous for the artist's native places. Before us seems to be the memories of the artist about the children's years, about the beloved Khvalynsk.
Petrov-Vodkin was born on October 24, 1878 in the family of Sapozhnik Sergey Fedorovich Vodkin and his wife Anna Panteleevna. When the boy was going on for the third year, his father was taken to serve in St. Petersburg, on Oktu. Soon, Anna Panteleevna moved there with Kuzma. In the mesonin, a rickety wooden house on an empty street, not far from the barracks of the Novocherkassk regiment, they lived for two and a half years – this was the first meeting of the future artist with St. Petersburg – the city where he will come to study painting. Upon returning to Khvalynsk, the mother entered the service of the local rich Mikhailovs, Kuzma was again with her, in the outbuilding … In Khvalynsk, you could only dream about painting … After graduating from a four -year urban school, Kuzma went to Samara to go to the railway technical school. Only without passing the exam, he went to write signs and study in the drawing classes of Fedor Burov.