Artist – Petrov -Vodkin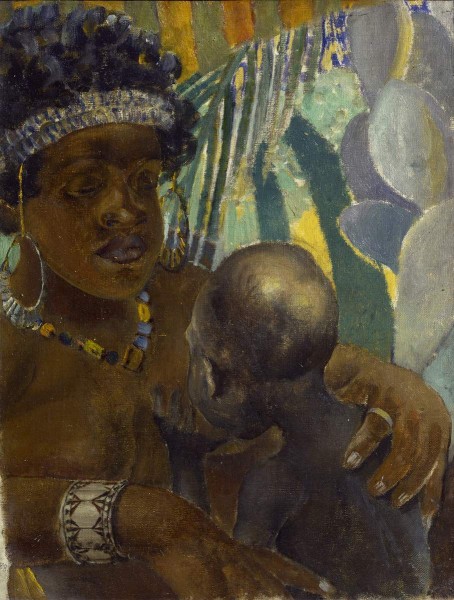 Study for the painting "The Family of the Nomad" (1907, the State Art Gallery of the Republic of Chuvashia, Cheboksary)
The path to knowing himself as an artist was long for Petrov-Vodkin and difficult. One of the steps along this path was a trip to North Africa. He recovered there from Paris in the spring of 1907. An unforgettable journey through Algeria and Tunisia, with a lot of meetings, incidents, were later described by him in the "Space of Euclid" and the poetic story "Travel to Africa".
On the basis of sketches and sketches brought from Africa, returning to Paris, Petrov-Vodkin created several paintings. Two of them – the "Family of the Nomads" and "Dance of the Arabs" – he participated in the 1908 Paris salon.
The "Nomad's Family" is surprisingly echoing with the "king's wife" of the Gauguen field. But in the sketch of the "Negro" stored in the Russian Museum, the Gauguin motive is fading into the background. Here for the first time one of the main topics of Petrov-Vodkin is for the first time-the topic of motherhood. However, the African "Madonna with the baby" is not interpreted by him as "icon", rather, as an idol or idol. Her archetypal image is closer to Eve than to Mary. This is the goddess, the "great mother", feeding and giving.
"The African cycle of my works that wrote and write about me, with the light hand of Apollo magazine, is defined as "GOGENOVSKY ". I'm not afraid to confess to any of my mistakes and any borrowing – but there is a clear misunderstanding here. It is possible that Matisse was my inspirer when working on "Playing boys "that I also learned something from Picasso, but I never studied at Gauguin. In any case, Africa sobered me. From this trip, I brought a lot of studies, sketches and started paintings "(to. WITH. Petrov-Vodkin. The path of the artist, "Soviet art", November 17, 1936)