The artist is Kustodiev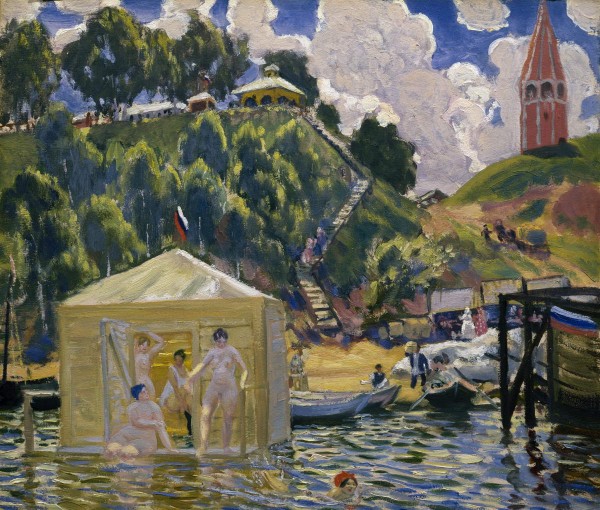 Kustodiev already in the early 1900s masterfully owned a wide manner of impressionistic writing, using it in the Scriptures of the lyrical landscapes and spectacular portraits of thin colors in the color scheme. Exhibition catalog in Malaga "Seasons. Works from the collection of the Russian Museum ". 2015. WITH. 95.
The painting "Bathing", written by Boris Kustodiev in 1912 is a magnificent example of the "Kustodiev Volga", "Kustodiev Russian". "Volga and Kustodiev are inseparable," wrote the artist Ivan Bilibin. – Volga cities, fairs, pink and white churches with blue and golden domes, wild merchants, merchants, cabs, men – here is his world, his mother Volga and his Russia. And everything is great, strong and juicy ". Folk fairy tale – in the whole picture: in the surrounding landscape, in the multicolor of pure bright colors. What is not around! Cozy houses of a small provincial town settled on a high hillock. The spicy bell tower flames. White -barreled birches delight the eye with lush green crowns. The sandy shore burns in gold. Water shines and shimmers covered with fine ripples. Wooden bathing is pierced with hot sun rays. And how good are the artist loved by the artist of the swimsuit! Lush, poured pink. They change clothes, talk, laugh, anticipating the joy of a hot day to refresh in the water, and nudity, confident in their beauty – the beauty of fabulous, epic in their beauty, are not at all embarrassed. It seems that they appeared here not from everyday life, but from folk tales, where magical apple trees grow and dairy rivers with sour shores flow. They didn't even just come, but appeared in a golden bath, now peacefully swaying on shining mother -of -pearl waters. And with all the fabulousness, the canvas filled with light and the sun is beamed by the joy of life.