The artist is Roerich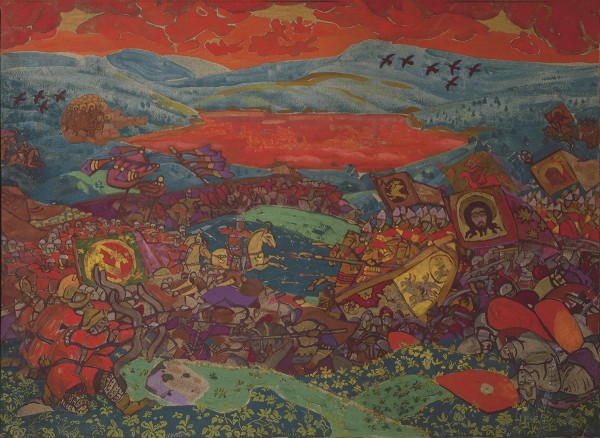 "Sich at Kerzhentsa" is a sketch of the curtain for the symphonic intermission of the opera Nikolai Rimsky-Korsakov "The Tale of the Invisible City of Kitezh and the Virgin Fevronia", performed by Roerich for "Russian Seasons" in Paris organized by Sergei Diaghilev.
"Sich under Kerzhenta" is one of the episodes of the struggle of Russian troops with the Tatars who attacked them (XIII century). In this battle, according to legend, it disappeared in the waters of the Kerzhenst River flowing in the Nizhny Novgorod region, a whole city called Kitezh. Roerich in the sketch of the curtain depicted a tense battle between Russians and Tatars. The rapidly racing riders, anxiously swirling clouds, reflected in the waters of the river, hide the forms of the disappearing city, thereby saving it from destruction by the enemy.
Later, this sketch will form the basis of a decorative panel for the Kazan station in Moscow (not executed).
Nikolai Roerich. In search of Shambhala. SPb, 2020. WITH. 55.
We recommend
| | | |
| --- | --- | --- |
| Sich at Kerzhenza, n.A. Rimsky-Korsakov / Battle of Kerzhenets, N. Rimky-Korsakov. Maris Jansons, Terem Quartet and Symphony Orchestra of Bavarian Radio in Munich | | |
| "Sich with Kerzhenza". Soviet animated music on music n. A. Rimsky-Korsakov, 1971. Directors Ivan Ivanov-Vano and Yuri Norshtein. The film uses materials from Russian fresco painting and miniatures of the XIV -XVI centuries. | | |