The artist is Sudeikin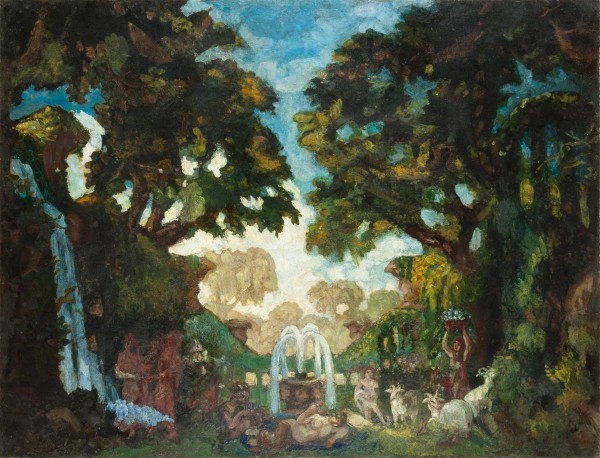 + About the restoration of the work
– Hide the text about restoration
The state of safety before restoration:
Picture with. YU. Sudeikina "Mythological Scene" entered the museum in 1987. Her condition was not emergency and did not cause any fears. The picture simply did not have an exposition look. During the time of existence, damage arose in the picture, as it later turned out, irreversible, caused by unprofessional restoration. Written by the author in the technique of tempo on low -quality cardboard, the picture was duplicated later on another cardboard and was very deformed. The colorful layer was a darkened, smooth surface without a picturesque texture, flooded with a thick layer of wax-drifted mastic and dark yellow varnish. On the entire surface, there were strict stable deformations of the base, not glued, but simply folded tears. The fractures of the foundation for the purpose of strengthening were flooded with dirty yellow-brown mastic. Wax-red compositions were brought to the places of stratification through numerous cross-shaped incisions from the front side. These incisions were subsequently rudely painted over. Uneven ledes were visible along the deformation lines. The largest damage with partial loss of the base is around the perimeter, in the corners of the picture.
After detailed technical and technological studies, it became clear that the author's thin colorful layer is temporary, but is covered with a thick layer of late oil paint, and all the irregularities of the mutilated surface are leveled with a layer of wax-somained mastic and layers of multi-time varnishes.
Complex of the events:
Technical restoration included the removal of duplicate cardboard, the thickening of the author's delapping, damaged by cuts of the base, its strengthening and duplication on a layer of Japanese paper, and then on neutral cardboard.
The picture was fully disclosed from the records. The study of visible luminescence and radiography showed the image hidden under the notes. Only after removal of the upper subniteal layers became visible under the notes of the image. The original author's temporal technique changed its composition with multiple restoration impregnations with waxing compositions. The loose temporal painting absorbed the browned varnish, and some pigments (blue-green) formed with it the compounds of the copper-resinces that did not allow to completely remove the pnoviean layers, which were partially "hidden" and "introduced into the fabric of the work". The loss of a colorful layer, were toned, the picture was fixed on a tablet subframe and placed in a frame under the classified glass.
Keeping a story. Restoration workshop of the Russian Museum – 100 years. SPb, 2022. WITH. 158.