The artist is Kustodiev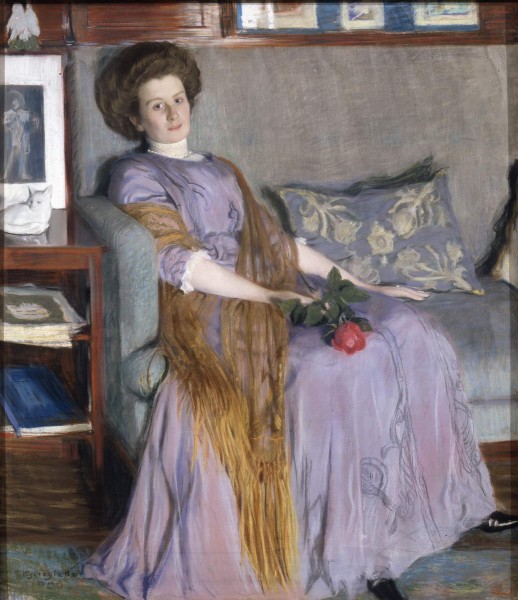 The laconic form, strict drawing, highlighted color scheme characteristic of the portrait characterize the neoclassical aspirations of Kustodiev in the 1910s.
Rene Ivanovna Notgft (nee Kestlin; 1880–1950s)-wife of Fedor Fedorovich Notgft, close friend of artist B. M. Kustodiev, a well -known collector and publisher, later an employee of the Hermitage. Repeatedly was a model of an artist, passionate about the peculiar beauty and grace of this native of Switzerland.
Pastel from the collection of the Russian Museum. SPb. 2009. WITH. 94.
Notgft (nee Kestlin) Rene Ivanovna (1880–1950s)-first wife f. F. Notft. In 1921 she went abroad, where her parents and brother lived. Her portrait wrote to. A. Somov.
The portrait depicts Rene Ivanovna Notgft, the wife of the famous St. Petersburg collector and museum figure Fedor Fedorovich Notgft, a close friend of the artist. Kustodiev portraited it more than once. He was attracted by her peculiar beauty, the features of her "non -Russian" face (Rene Notgft was born in Switzerland). The model is presented in the usual atmosphere of the St. Petersburg living room among stylish furniture and accessories. The artist captured on the canvas a sophisticated, full of soft femininity. The appearance of the portraited. The artist skillfully used the properties of the pastel to enhance the decorative effect of the composition: the specific maturity of the pastel causes associations with fashionable decorative art items made of unglazed porcelain, in abundance decorated with the salons and cabinets of those years. (G. TO.). Russian portrait. XX century: St. Petersburg, 2001. WITH. 86