The artist is Nesterov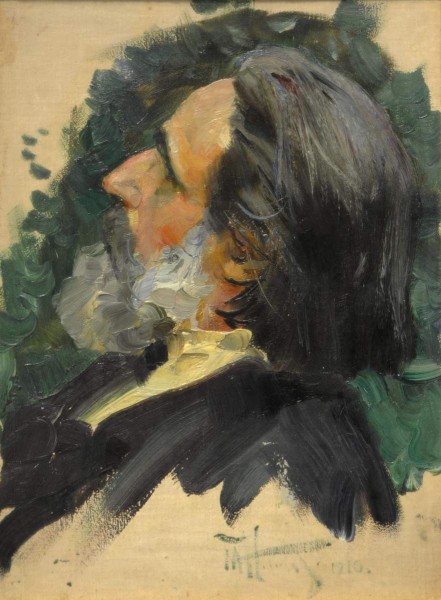 Beklemishev Vladimir Alexandrovich (1861, Yekaterinoslavskaya lips. – 1919, Novorzhev, Pskov lips.) – sculptor; well -known portraitist; teacher.
Studied at IAX (1878–1887) at n. A. Laversetsky and a. R. Boka von. Small Golden Medal (1886), a large gold medal and the title of class artist of the 1st degree (1887) for the bas-relief "Regulation in the coffin". Pensioner IAX (1888–1892). Academician (1892). Professor, head of the sculptural workshop of VHU at IAX (1894–1918), rector (1900–1903, 1906–1911). Member of the Society named after. A. AND. Kuindzhi (1909). Member of the IAX exhibitions (since 1884), TPHV (since 1917 – member). At the World Exhibition in Paris (1900) received a gold medal for his work. The author of the monuments a. WITH. Griboedov in Tehran (1904), Ermaku in Novocherkassk (1904), with. P. Botkin in St. Petersburg (1908), bust a. AND. Kuindzhi on the tombstone of the artist (1914, Alexander Nevskaya Lavra).