The artist is Della-Vos-Cardovskaya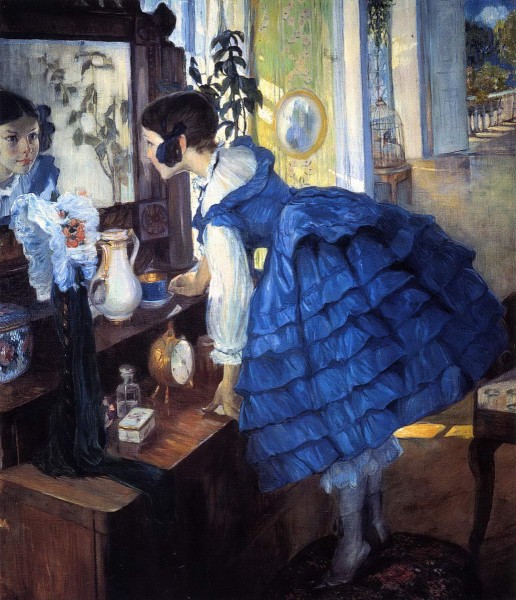 Like most of Repin's students, the artist had addicted to the portrait, gaining fame for images a. A. Akhmatova, n. WITH. Gumilyov, d. N. Kardovsky. In the "Little Woman" canvas, the portrait of her daughter Katya forms the basis of an image painted in retrospective tones. The artist placed her ten -year -old Mo del, inquisitively peering into her own surface in the surface of an old ("grandmother's") mirror, in the midst of the nineteenth century, among the elegant things – mild witnesses of the departed era in the sun pierced by the sun. Full of air permeated with light, the interior through the wide open windows and doors is associated with the summer solar landscape. For Russian people at the beginning of the twentieth century, this world was associated with the Turgenev era. It was perceived as the embodiment of beauty, harmony and humanity, which forever passed away, which is so subtly expressed in the verses of the cycle "gold in the azure" of Andrei Bely, in prose and. A. Bunina. Like other St. Petersburg neuromancycs, the past and modernity whimsily intertwined in the canvas, admiring the charm of youth and elegic sadness about the current time, reflections on the continuity of generations. (IN. TO.).
The Kardovskaya Ekaterina Dmitrievna (1900–1985, in the marriage of Albitskaya) – daughter D. N. Kardovsky and Fr. L. Della-Vos-Cardovskaya.
Russian portrait. XX century: St. Petersburg, 2001. WITH. 163.
Like most students of Ilya Repin, Olga Della-Vos-Cardovskaya was a passionate portrait. She wrote many famous images of Anna Akhmatova, Nikolai Gumilyov and Dmitry Kardovsky.
The daughter of the artist Ekaterina Dmitrievna Kardovskaya, a ten -year -old girl who was inquisitively considering her own reflection in an old grandmother's mirror. Among the children's games and naive imitation of the eldest, she seemed to feel her growing up for the first time, realized the charm of her appearance. The girl is depicted in the sun pierced by the sun, among elegant things, dumb witnesses of the departed.
As in the works of other St. Petersburg-neo-neooromanists, in "Little woman" The past and the present is bizarrely intertwined and the charm of youth delights.
Ekaterina Dmitrievna Kardovskaya (1900–1986, married Albitskaya) – daughter of the academician of painting Dmitry Nikolayevich Kardovsky, researcher of his work, founder of the Kardovsky House in Pereslavl -Zalessky. For many years have been studying and promoting the work of her famous parents. Compiler of the book "Dmitry Nikolaevich Kardovsky about art". The author of the memoirs of Nikolai Gumilyov and other art figures.