The artist is Burliuk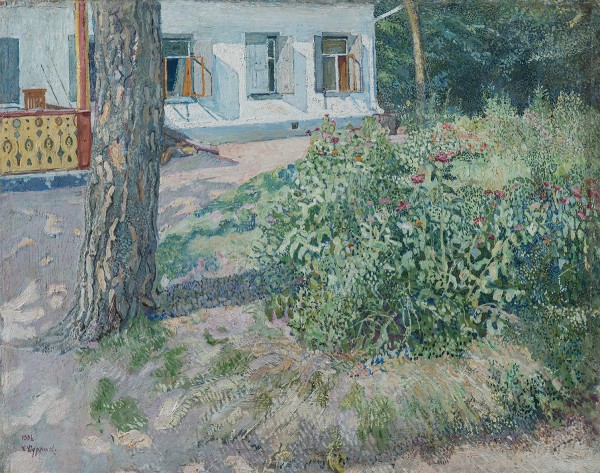 David Burliuk received his first painting lessons in the Kazan Art School and the Odessa Art College. In 1902, after an unsuccessful attempt to become a student of the Academy of Arts, he goes to Munich at the Royal Academy of Arts, then attends the famous school of Anton Ashbe, and in 1904 he begins to study at the workshop. Cortone in Paris.
The time spent by Burliok in Munich and Paris coincided with the period when the painting of key European centers of culture experienced a powerful transformation under the influence of new discoveries, and "greedy" to the whole new artist, had the opportunity to get first -handed to get acquainted with avant -garde trends. Imitating the impressionists, he wrote delicate solar landscapes. Such is the "landscape with a flower bed".
In this small, sketchy, the canvas – a corner of peace and rest, is quite "philistine" happiness (before the "slap in the face of public taste" for another 6 years). There are no problems and conflicts in this world, there are no deep meanings – there is only a joyful sunny morning. The state of nature corresponds to the "highlighted" color scheme, the absence of deaf, gray shadows characteristic of realistic painting. The artist masterfully develops a cold color scheme, shading it with a gold of a wooden veranda and a rate scattered in a flowerbed of red flowers.