The artist is Gorelov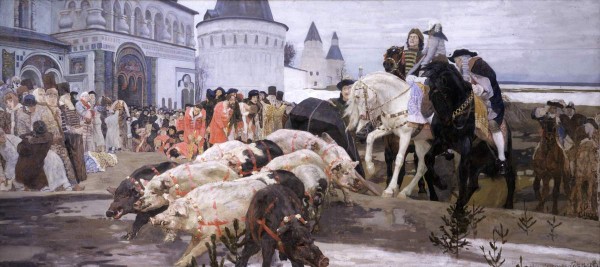 In 1697, on the eve of the departure of Peter I with a great embassy on a long foreign journey, a conspiracy was disclosed on his life, an intended Sagittarius Colonel Ivan Tsykler, Okolnichi Alexei Sokovnin, who sympathized with the schismatics, and Stolnik Fedor Pushkin, who did not want to send the abroad of his sons. All three were executed on March 4 in the village of Preobrazhensky, and the execution was accompanied by very typical preparations for Peter's nature. The day before, the recently buried body of Uncle Sophia Ivan Miloslavsky, one of the ill -wishers of Peter, was taken from the grave, and brought to the place of execution on pigs. The coffin was placed near the crying, and the blood of the executed flowed on the corpse of Miloslavsky. Such a wild action, not compatible with the general direction of the activity of Peter, was, nevertheless, a historical fact.
The painting "The ridicule of the corpse of Ivan Miloslavsky", written by Gorelov in 1911, was sent to an international exhibition in Rome. Despite the positive reviews of such authorities as. E. Repin, by decision of the Russian government, the work was removed from the exposition. Despite the interesting artistic solution of the plot, Gorelov definitely hesitated by his picture for a long time that has long been the attached cult of the personality of the great converter of Russia. Pavel Klimov // Electronic catalog "Heroes and villains of Russian history". SPb, 2010. WITH. 164.