The artist is Filonov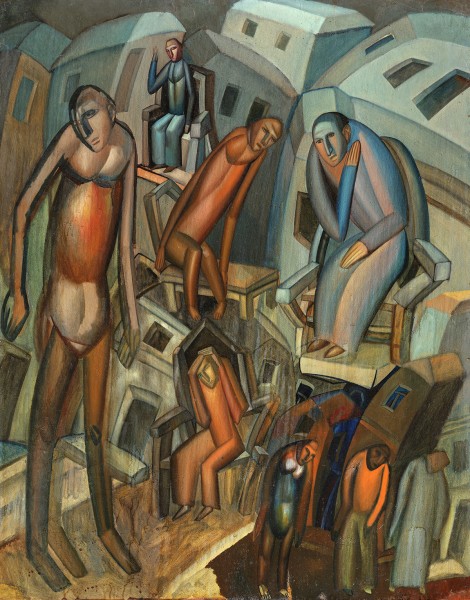 In the interval between the two revolutions, the metaphorical works of Pavel Filonov appear – "who has nothing to lose", "a feast of kings", "the rebirth of an intellectual". They seem to continue and explain one another.
The picture "who has nothing to lose" – about the proletariat, driven, clogged and humiliated. The artist writes people who are broken, their gestures express an extreme degree of despondency, grief and despair, their hands are limp, movements are ridiculous, clumsy, eyes look nowhere. Huge figures roam lonely, lost between the boxes of houses with empty-eyed windows-beads. The city is inhabited by some miserable creatures passively awaiting their fate. As if the victims of the invisible rock, doomed to the slaughter, wander these ghosts in slums and labyrinths of an endless stone bag.
The work immerses the world of acute social disaster. Scarious, poor, poor soulless world in which miserable people mourn.
Compassion of "humiliated and offended"-the traditional theme of Russian art of the II half of the 19th century-found its continuation in the contradictory and multifaceted work of Filonov, permeated by the issues of human freedom in the world, his personal fate.