The artist is Malyavin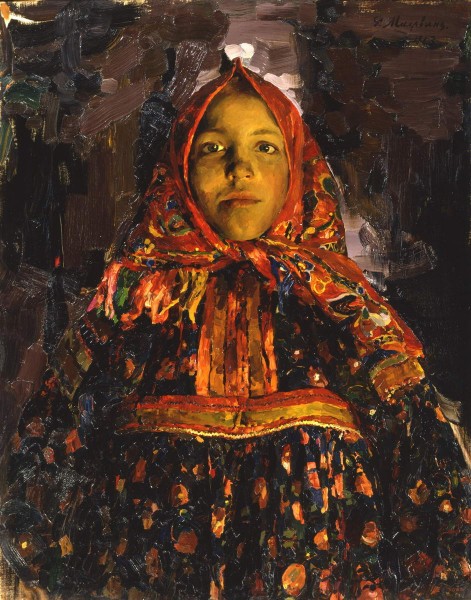 On the eve of the twentieth century, being a student of the Academy, Malyavin opened a new type of Russian peasant woman to domestic art: proud, majestic, daring independent. His heroines were residents of the Ryazan villages in their bright, woven by colorful patterned clothes. The portrait of Verka is little like images of her countrywomen, showing another type of human character. Closed, dumbfounded, with wide eyes, with a figure hidden in colorful clothes, she looks like a revived idol and is touching in her timidity and embarrassment. At the same time, in heroine, integrity, inner strength and self -esteem are noticeable in the heroine. The picture is built on the contrast of a balanced calm (in the character of a person, his pose) and impulsiveness (vibration of color and light in the clothes of the model), on the contrast of a carefully written tanned bronze-brown face, static pose-haze of a golden-green background, flickering red, blue and green tones Dresses and scarves. Clear composition, a clear silhouette of the figure, a low horizon, a tight and temperamental stain monumentalize the image. (IN. TO.).
Russian portrait. XX century: St. Petersburg, 2001. WITH. 109.